KIA receives 2021 Epic Award from the Arts Council of Greater Kalamazoo
The Arts Council of Greater Kalamazoo (ACGK) announces the recipients of the 2021 Community Arts Awards. Since 1985, the ACGK has honored local artists, arts organizations, and supporters through the Community Arts Awards.  
The 2021 Community Arts Awards presentation will be held Tuesday, Dec. 7, 2021, at 5:30 p.m. at the Shaw Theatre on the campus of Western Michigan University.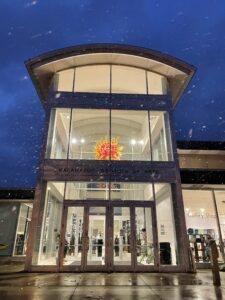 Epic Award 
Kalamazoo Institute of Arts  
The Kalamazoo Institute of Arts (KIA) has had a resolute commitment to serve this community's residents, businesses, and visitors for over 96 years. Their dedication to the artistic integrity of the museum, its collection, exhibitions, and programming is only enhanced by their mission that "art is for everyone." This has been made even more evident over the past few years in their unwavering dedication to transform, inspire, and fulfill through the arts.
Historically, the KIA has provided versatile and engaging programming for all ages and their outreach is unmatched. They strive to be the leading educational partner for parents and families outside of schools, serving 1,500 families annually through recurring programs for children and youth, of which most are free.
Even though recent pandemic limitations "paused" their free K-12 tours serving more than 15,000 students annually, they have been working diligently to provide teacher resources and online accessibility to stay connected. The Kirk Newman Art School (KNAS) enrolls nearly 3,000 students annually and provides 300 scholarships, most of which enable children and youth to participate for free. KNAS was also able to pivot this year creating many classes online and virtual one-to-one sessions with instructors.
KIA has risen to the challenge of this past year to meet people where they are most comfortable. KIA has been providing a Spanish version of Art Detectives in partnership with El Concilio and works closely with community groups to identify and respond to community needs.
Executive Director Belinda Tate spoke with 106.9 FM WKZO on the honor.
Read more information on the remaining award winners on the Arts Council's website.