Science & Art Combine at the Kalamazoo Institute of Arts
The Kalamazoo Institute of Arts (KIA) is elated to announce the newest exhibition, Ginny Ruffner: Reforestation of the Imagination. Don't miss the opportunity to not only see the exhibition but hear from the artist Ginny Ruffner about the highly imaginative and innovative way that art intersects or connects with technology.
Join Ruffner (virtually) on Thursday, September 16 for "Transforming Art with Digital Technology", a talk hosted by the KIA. In this unforgettable virtual experience, Ruffner will showcase some of her projects, explaining both the artistic and the technological side of her process. Science and art combine in Ruffner's work to create a magical environment, for the viewer, and this virtual talk is an exciting prelude to the exhibition opening this Saturday.
Ginny Ruffner: Reforestation of the Imagination, is a reality-bending presentation of Ruffner's complex fusion of fine glass blowing, augmented reality (AR), and drawing. Visitors to the exhibition should download the Reforestation app in advance on their smart devices, or borrow a tablet provided from the KIA reception. A seemingly barren and bleak environment comes to life, transformed by hovering your device over her work.
"We are eager to experience this long-awaited exhibition opening. I am excited to invite our community to be transported into a dystopian future, where Ruffner's works show us there is still hope for humanity and the environment," said KIA Chief Curator, Rehema Barber.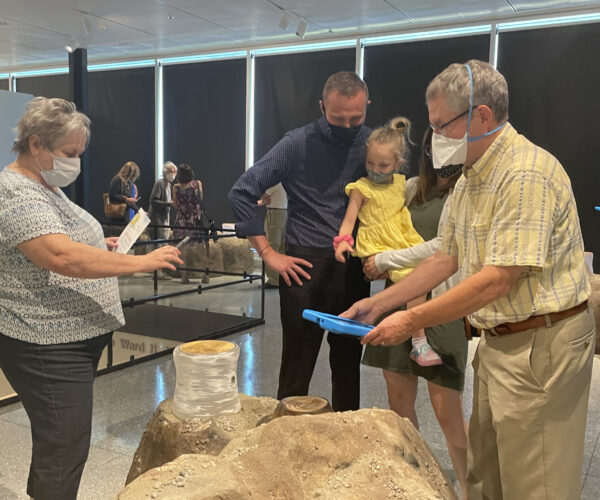 Ginny Ruffner (b.1952) is an artist best known for her elegant sculptures and mastery of glass techniques. Ruffner currently resides in Seattle, Washington where she moved in 1984 to teach at the influential Pilchuck Glass School, co-founded by Dale Chihuly. Originally a rustic summer camp for artists nestled in the foothills of the Cascade Mountains, Pilchuck is now a world-renowned glass school. Ruffner's work is in over forty museum collections including the Metropolitan Museum of Art and the Renwick Gallery, and she has produced numerous public art commissions. She was the subject of an award-winning feature-length documentary, "A Not So Still Life" in 2010, chronicling her artistic journey after a life-altering, physically debilitating car accident.
Ginny Ruffner: Reforestation of the Imagination is organized by the Renwick Gallery of the Smithsonian American Art Museum. Generous support has been provided by the Smithsonian American Women's History Initiative, Elizabeth and James Eisenstein, Ed and Kathy Fries, Shelby and Frederick Gans, James Renwick Alliance, Colleen, and John Kotelly, Betty and Whitney MacMillan, Jacqueline B. Mars, Kim and Jon Shirley Foundation, and Myra and Harold Weiss. The C.F. Foundation in Atlanta supports the museum's traveling exhibition program, Treasures to Go. Support for this exhibition is provided also by ArtBridges.
As one of the leading arts organizations in Michigan and the Midwest, the mission of the  KIA is to promote and cultivate the creation and appreciation of visual arts. Through the museum, the collection, fine arts library, Kirk Newman Art School, programs, events, and the Gallery Shop, where we believe art is for everyone. Visit KIARTS.org for more information