Renee Stout: Tales of the Conjure Woman
July 23, 2016 - October 23, 2016
Washington, D.C., artist Renée Stout is known for exploring the vestiges of African cultural traditions in contemporary America. For many years, she has used alter ego Fatima Mayfield, a fictitious herbalist/fortuneteller, as a vehicle to role-play and confront issues such as romantic relationships, social ills, or financial woes in a way that is open, creative, and humorous. The exhibition focuses on the artist's assumed role through an array of works in various media.
As Stout explains, "The common thread running through bodies of my work of the past several years is the continuing need for self-discovery and the need to understand and make sense of human motives and the way we relate and respond to each other."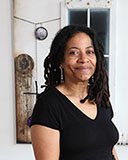 Renée Stout grew up in Pittsburgh, Pennsylvania and received her BFA from Carnegie Mellon University in 1980. Originally trained as a painter, she moved to Washington, D.C. in 1985 where she began to explore the spiritual roots of her African-American heritage through her work. Her exhibition history includes solo shows at Hemphill Fine Arts in Washington, D.C.; The Ogden Museum of Southern Art in New Orleans, LA; David Beitzel Gallery in New York, NY and the Pittsburgh Center for the Arts in Pittsburgh, PA.
Stout has been included in group exhibitions at The Andy Warhol Museum in Pittsburgh, PA; The Reginald F. Lewis Museum in Baltimore, MD; the High Museum of Art in Atlanta, GA; and Smithsonian American Art Museum in Washington, D.C.; among several others. She has been the recipient of awards from The Pollock-Krasner Foundation, the Joan Mitchell Foundation, the Bader Fund, The Louis Comfort Tiffany Foundation and the High Museum's Driskell Prize. Most recently, Renée Stout received the 2012 Janet and Walter Sondheim Artscape Prize.
The exhibition was organized by the Halsey Institute of Contemporary Art, College of Charleston School of the Arts, in collaboration with Spelman College Museum of Fine Arts and the Ruth and Elmer Wellin Museum of Art, Hamilton College.