Exhibition inspired by African art opens with a virtual celebration

The Kalamazoo Institute of Arts (KIA) continues to present exhibitions and programs that illuminate diverse art practices, communities, and individuals. With that in mind, the KIA is pleased to announce the newest exhibition, Africa, Imagined: Reflections on Modern and Contemporary Art, opening on Jan. 22, 2022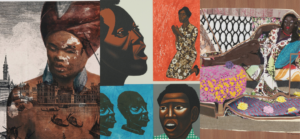 Africa, Imagined will explore how artists of varying cultures and perspectives have been inspired by the ideas, truths, and myths surrounding African art. Featuring mostly West African works of art spanning the twentieth and twenty-first centuries, the exhibition will explore three key themes: escapism, social inquiry, and cultural reclamation. 
Continue to be inspired by KIA Chief Curator Rehema Barber as she takes a deeper dive into the artistry around this exhibition on Jan. 28, 2022, at 2 p.m. During this special virtual opening, Barber will explore many of the works by African artists within the exhibition. More details about the exhibition and to RSVP for the virtual opening celebration can be found on KIArts.org/events.
Africa, Imagined will be on view through May 1, 2022. Children under 12 are free and students are only $2. Galleries are open Wednesday through Saturday 11 a.m.-5 p.m. and Sunday 12-4 p.m.
As one of the leading arts organizations in Michigan and the Midwest, the mission of the KIA is to promote and cultivate the creation and appreciation of visual arts. Through the museum, the collection, fine arts library, Kirk Newman Art School, programs, events, and the Gallery Shop, where we believe art is for everyone. Visit KIARTS.org for more information.